Walk-in robes have become much more than just a closet; they are now considered must-have features for more and more home buyers.
Regardless of whether they are large or small, make sure you are making the most of this space by following a few basic tips.
Dressing Room
The most effective walk-in robes are the ones in which you not only store clothes in, but also get changed in.   Include full length mirrors which, not only serve a purpose, but are also a great way of creating a spacious vibe in a small and confined area like a walk-in robe.
Compartmentalise
Take into account the clothing and other items you wear most frequently and create spaces devoted to these different types of clothing and accessories. Create a closet system with hanging bars, cubby storage, baskets and drawers to help organize clothing and ensure that everything has a place.
Go vertical
Use the full height of the wardrobe to maximise your storage capacity.  Always include single and double hanging rails to boost that capacity. Hang suitcases on hooks high up in unused awkward spaces.
Get the light right
While maximising space in the walk-in robe is important, getting the light right is also crucial as good lighting will make it even more functional.  If you have cabinetry that runs floor to ceiling or, you have items stacked, it's important that the lighting is directly above or within the cabinetry so that it is task oriented and focused, and you are not simply relying on one light in the middle of the space. Lamps can be used in a walk-in closet for extra illumination, which is beneficial for dressing areas.
Window dressing
Windows not only provide natural light (and a true indication of what your outfit will look like on the outside), they also provide fresh air and circulation to keep your clothes fresh and dry.  You will need a good light-blocking window covering to prevent  fading and damage to your clothes.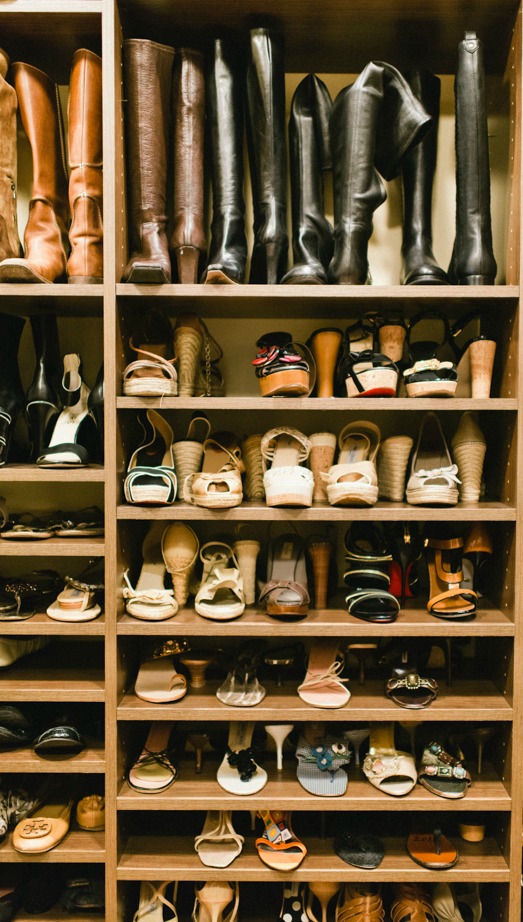 End the Shoe shuffle
Any walk-in robe space worth its salt should allow for easy footwear  storage.  Ensure storage with correct height and a slight slant for viewing and easy access.
Some women store their shoes in either the original shoe-box or specialty boxes with clear panels. Take a polaroid snap and tape them to the shoe box. If you have only have room for shelves, this is the best way to display shoes and see what you own at a glance.