Hands up who has moved house in a torrential downpour.  IT. IS. NOT. FUN.
Slippery conditions can pose a safety hazard, and getting wet in cold temperatures is draining – both physically and mentally. Finally, rain can ruin boxes, damage your stuff and even lead to mold growth if you don't unpack and dry your things immediately after moving.
Here are some tips to help keep a rainy-day move, a safe, healthy and happy one:
WEAR STURDY SLIP-RESISTANT BOOTS

Gumboots are handy, especially if having to slip boots on & off, but they don't have great tread.  Unless you have a pair with great grip, a good pair of work boots will be better.  Be wary of slip hazards like stairs, hardwood floors and the metal loading ramp of the moving truck.  A pair of gardening gloves also works well to give extra grip carrying items in wet conditions.
TAKE COVER
There's nothing worse than lifting a box to have its soggy bottom fall out! Rain can still get into the back of the truck and ruin your things so lay a tarp on the truck floor.  Tape seams or cracks on boxes with masking tape, and consider running more tape right around the box (horizontally & vertically) to hold it all together should the box get wet.  Use large plastic bags/plastic dropsheets to cover everything as it gets moved from house to truck, and wipe them down with dry rags as soon possible.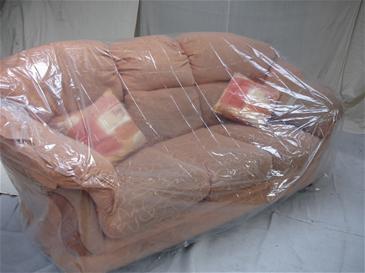 Lay old towels or old carpet to protect hardwood floors and carpets.  Move all of your stuff into one or two rooms close to the entrance as this will limit the amount of water and mud that is tracked inside.
Take note:  one item that should always be covered in plastic, no matter the weather, is your mattress.
CONSIDER MOVING INSURANCE
Moving insurance can be expensive, but often a good investment, particularly during heavy rain. If ever your 79″ Ultra HD 3D Smart TV was going to get dropped, this will be it.
Although most removalists are insured for public liability insurance, third party property and motor vehicle insurance, these forms of insurance do not cover your items.
SET UP AN ASSEMBLY LINE
If numbers are on your side and you have help moving, set up an assembly line from house to truck to move things along faster.  Not only is it more efficient, but with less wet boots trudging in and out of the house, the floors will stay dry and protected .  The happy helpers will be those inside the house and truck.  Those in between may not be too impressed, so see if you can:
BEG/BORROW/STEAL TENTS
Large pop-up tents can be a big help when unloading or loading your home on a rainy day, especially if you're able to back your truck up fairly close to the house.
BE SAFE, BE SMART
While the best option is to avoid the rain completely during a move, it isn't always possible.  However, by using general caution and common sense, and following these tips, moving in bad weather doesn't have to be a nightmare and you can easily protect your belongings (and your sanity! )