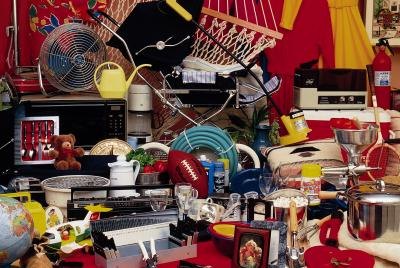 For many, having enough storage space can be a real challenge. Almost everyone is guilty of at least one closet, cabinet or drawer crammed with stuff that hasn't seen the light of day in years.
By adding more storage space and making a few minor improvements, you can solve a lot of problems, make your life less stressful, and actually increase the value of your home. If you search the internet, you'll find some really creative and clever home storage solutions that anyone can take advantage of.
Here are a few ways to create more storage space and turn your presently cramped home or apartment into a spacious environment.
Door Storage Racks – You'd be surprised how much space there is behind doors – in bedrooms, the bathroom, in the kitchen. Door racks can turn a kitchen door into a makeshift pantry for holding spices. Bedroom and guest room racks can hold extra shoes, clothing and accessories.  Door storage racks that hook over the top of the door may be an annoyance when closing doors, however, are the better solution if you need something temporary or in a rental.
Over Cabinet Baskets – If you have a small kitchen and need extra storage, use baskets above your cabinets to hold items that you don't use every day – extra canisters, pots & pans, kitchen gadgets, etc.  Add some fun labels and you'll know exactly what's in there.
Under Bed Containers – Underbed storage makes use of potentially wasted space while still keeping items out of sight.  These rolling plastic bins are perfect for hiding out-of-season clothing, accessories, and shoes. Old dresser drawers and crates fitted with castors can also be adapted for underbed storage.
Space Saving Clothing Bags – One of the most genius inventions to arrive on the market, that really helps to increase the storage ability of your home, is the space bag. Toss in your out of season clothes, extra bedding, curtains, pillows, and stuffed animals, then use your vacuum to remove air. Pack these flat bags under beds until you are ready to use these items again.
Closet Clutter Busters – Closets can easily turn into a real mess if you don't take steps to keep them organized. To add more storage space, add a clever closet extender bar underneath your regular clothes bar, and use this to hang pants and skirts. Add shoe racks to the back of closet doors or in the bottom of your closets.

Wall Shelving –  A blank wall is the perfect canvas to liven up with shelving.  The choices are endless:  go industrial with metal shelving;  classy with a staggered set of wooden floating shelves; eclectic with a colourful array of crates.  Not only does it add personality to your home, watch it open up each room as items like books, music, art and office supplies find their rightful place.


Double-duty Furniture– Your home can become more organized when you replace worn out furnishings with those that offer more than one function. Try storage ottomans instead of coffee tables. Or use a storage bench near your entrance or in a bedroom to stow away extra blankets, shoes, mittens, and hats. Tables can reveal hidden storage nooks for holding dinnerware and linens.
Mobile Storage Carts– Save on a reno and add kitchen storage and workspace with an inexpensive mobile kitchen cart or island.  With drawers and shelves, it's ideal to hold your extra cookware, cookbooks or other kitchen supplies.
Banquet Storage  – In the dining room, replace chairs with a storage bench on each side of your table. Adding a hutch will inspire elegant displays of fine china or heirlooms while adding practical storage space for dinnerware and glasses.

Jewellery Mirror Magic – In your dressing room, instead of a plain wall mirror, why not add a wall-mounted jewellery box cleverly disguised as a full length wall mirror? This keeps your favorite jewellery neat and hung nicely so you can find what you need in a jiffy.

Over Toilet Storage -Turning that dead space above your toilet into a finely engineered storage module is like gaining a whole closet you never had.   And you can do it for a fraction of the cost of many alternatives.